The anime industry has thrived recently, there have been countless anime series produced. So here is the top anime series you should be watching.
When it comes to anime or manga, most people think cartoon characters from Japan—the home of ramen—who have "large eyes, round faces, sparkly, charming". Recently the number of anime viewers became very active. Anime has grown in popularity among both kids and adults over the years and has a global phenomenon. So what's anime?
1. What is anime?
Anime is a form of animation originating in Japan and characterized by colorful graphics, vibrant characters and fantastical themes. Anime can be appreciated as a graphic novel or as an animated movie. Anime/Manga (AM) is quite popular in the world, especially among teenagers, the community of AM lovers is growing, the exchange of learning Japanese culture has become popular.
2. Top anime series you should be watching
Tonari no Totoro
One of the top anime series, the story follows the changing lives of two sisters Satsuki (11 years old) and Mei (4 years old). When Mr. Kusakabe's family moved to the country, the area was said to be haunted by ghosts. They saw a very cute big-bellied animal when they went for run in a nearby forest, so he named it Totoro. After hearing about it, Mei's sister was also wanted to meet the beast. And they met. From there, the adventure of the two sisters also began.
For anime lovers, happyinktee have a lot of choices for you to choose. Let's check it out!!!
My Neighbour Totoro Rainy Day Hayao Miyazaki T-Shirt
If you are a fan of Totoro, you should not miss it.
Studio Ghibli My Neighbour Totoro T-Shirt.
One more cute tee of Toroto, we believe that totoro fans will be very happy when they buy it. Come and grab one.
Spirited Away
The story is about Chihiro and her family having to move from the city to the countryside. Due to his bad memory and shaky steering, Chihiro's father lost his car by accident and ended up in an abandoned city. The food here has a distinctive aroma and her parents couldn't help but enjoy it and the result turned into a fat pig. Strangely, ghosts started to appear in this city at night. What does Chihiro have to do to save her parents and get out of here?
Studio Ghibli Spirited Away T-Shirt
If you can't wait to watch the list of top anime series, you shouldn't miss these cute Tee as well.
One Piece
Surely there is no one who does not know this legendary series. This series can't be missing from the top anime series list. The film opens with the scene the Pirate King Gol D. is executed. Before his death he revealed about the treasure hidden under the sea. The treasure hunt started when the young pirate Monkey D.Luffy organized his own crew, which he called the Straw Hats. You can see the individual personalities of the Straw Hat Pirates characters by watching One Piece.
One Piece Crew Anime Lover T-Shirt
If you are a fan of One Piece, or your friend is crazy about One Piece. So what could be better than giving them a gift like this. This is the best gift for anime lovers. Come and grab one for your beloved.
Let's check it out at Happyinktee if you want to find a gift for anime lovers.
Your Name
One of the top anime series. The film tells the love story of a rural girl and a boy from Tokyo – Mitsuha and Taki. They have been swapped bodies and since then many funny things have happened. The two eventually swapped and developed feelings for each other. This is the best anime series of all time.
Spy x family
Spy x family is about a patchwork family with a father who is a spy, a mother who is a killer and a daughter who has the ability to read people's minds. This family was created to perform a spy father mission, but to complete that mission, the whole family had to work together to perform many other small tasks, don't know whether to laugh or cry situations happened.
Yor Thorn Spy Family Poster
If you don't want to a tee with an anime vignette, the poster can be a great choice for you. You can hang up anywhere in your house.
Grave of the Fireflies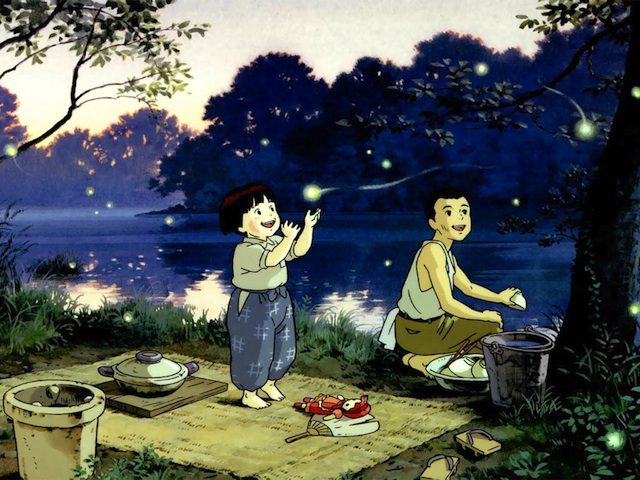 The film tells the story of two brothers Seita and Setsuko who lost their mother in Kobe city after a fierce bombing by the US Air Force while their father was fighting for the Japanese Imperial Navy. The two brothers struggle to live. This is a film that not only tells a parable about self-esteem, but it also speaks to the fighting spirit of the Japanese people through the fate of two children.
3. Conclusion
Anime is slowly gaining popularity and loved by many people, especially teenagers. Anime not only brings value to the content, but the image is attractive. The above is a top anime series that you should be watching and suggest gifts for anime lovers. We hope you can find an anime to watch with your friends.