Hanukkah Menorah is a traditional festival, it is a time for we to give and share Hanukkah Celebration. What are some Hanukkah celebration ideas to do with kids? Here are some Hanukkah celebration that you probable need.
Hanukkah Menorah is the Jewish Festival of Lights. Hanukkah is observed in Israel and around the world by lighting candles every night for eight nights. It starts on the 25th day of Kislev on the Hebrew calendar.
The festival commemorates the rededication of the Second Temple in Jerusalem at 165 BCE. The festival is also called "The Festival of Lights" because it celebrates the miracle that happened for eight days, when a small amount of oil that was found in a jar lasted for eight nights.
Each year, Hanukkah celebration with the lighting of the menorah, traditional foods, games, gifts, giving and sharing with others are encouraged. Here are some Hanukkah celebration ideas that kids should join with their families.
1. Hanukkah Celebration With Craft
When it comes to lei Hanukkah holidays, Menorah craft is the first to appear on the list of Hanukkah Menorah for preschoolers. This is fun activities, it not only helps preschoolers understand more about Hanukkah festival but also helps them learn creative skills.
This fun Hanukkah activity is so simple for preschoolers to make with their family members or friends. This Hanukkah craft has removable candle flames. You may add the candle flames to this enjoyable Hanukkah activity either all at once or one day at a time, just like a genuine Menorah. This is a really cool way for preschoolers to participate in the festivities!
2. Cookies for Hanukkah Celebration
One of Hanukkah celebration ideas that preschoolers can do together is baking. Baking can be done in a variety of ways, using old recipes or brand-new ones that are intended to celebrate Hanukkah such as customs to make cookies, cakes, or other desserts. Cookies for hanukkah is indispensable in the hanukkah party.
Preschoolers can help knead the dough, color the cake, pour flour into the mold,… These fun Hanukkah activities can do with their family members.
Or you can use some home-made vegetable ingredients to create a Menorah shape. These recipes are very simple like carrots, cucumber,… and they are super easy for kids to do.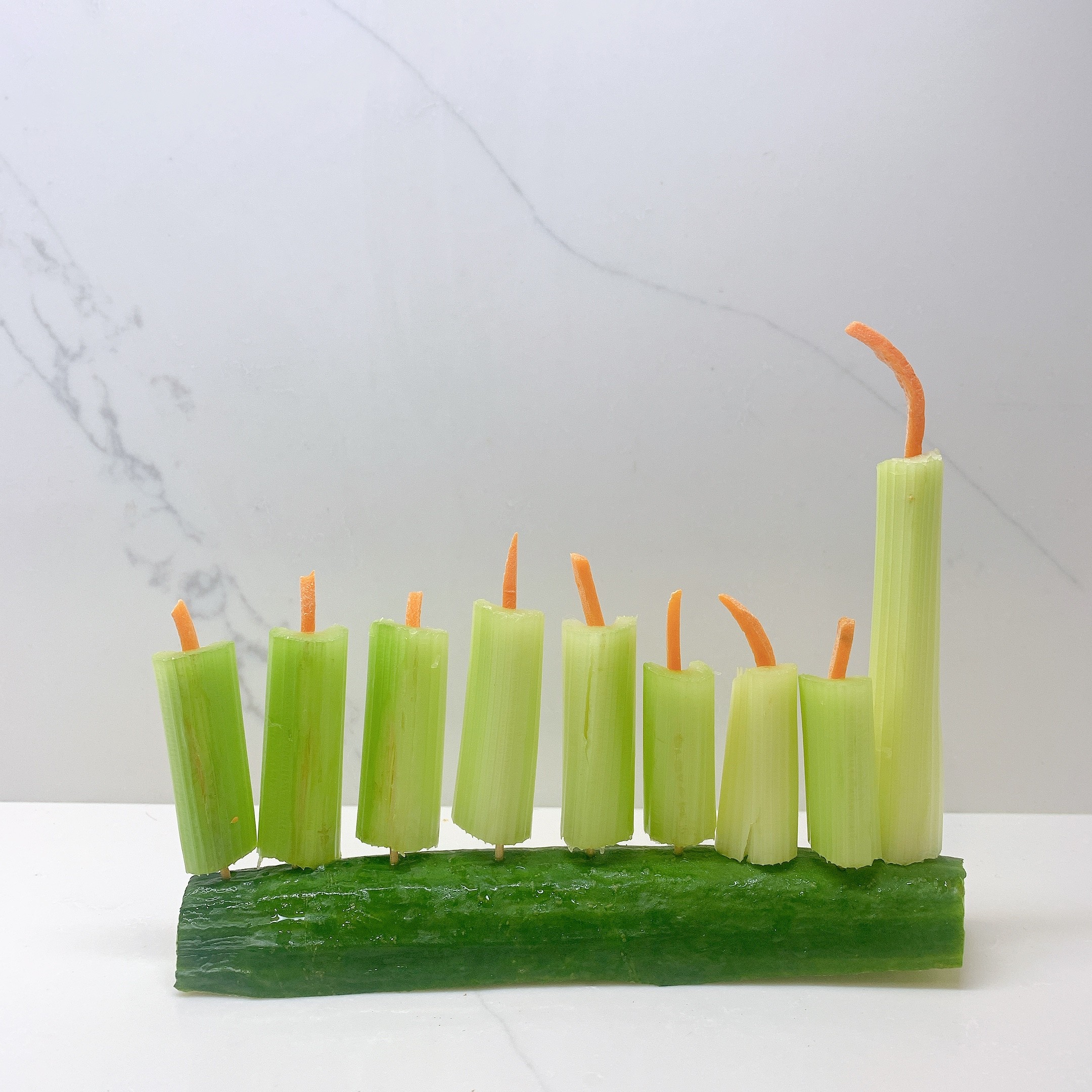 3. Reading books
Books are incredibly important to us. Reading is the fastest way for kids to have more knowledge about story of hanukkah. Children enjoy hearing stories not only adults. A great method to understand the significance of the holidays or just to spend quality time with your loved ones. This is a meaningful Hanukkah Menorah activity.
4. Puzzles
It will be very interesting and fun if all family members play puzzles together. Family photos can be used to make unique puzzles. It will be enjoyable to spend the time putting it together, and when it's finished, the puzzle can be framed and kept as lovely mementos for years to come. Every kids must love it.
5. Lego Hanukkah Menorah
Lego has become popular recently, surely no child does not know lego. This is not only a normal entertainment game but also helps children's brain develop. This is an excellent experiential activity for preschoolers. This activity can be played with friends, siblings or by themselves.
6. Giving gifts
During the holidays, gift giving is indispensable. People believe that life is giving and receiving. So to express gratitude and make the Hanukkah celebration even more meaningful people often give gifts. Here are some suggestion for Hanukkah gift:
T-shirts
For Hanukkah celebration gift ideas, many people choose to give useful gifts. Clothing, like T-shirts, makes great gifts.
Pochita Chainsaw Man Comfort Colors T-Shirt
One of the gifts that is both simple and affordable is the T-shirt. On hanukkah, it's great to give someone you love a gift that they can wear often.
Disney Monsters Inc Cute Sulley Kitty And Boo Comfort Colors T-Shirt
Kids will probably love these T-shirt. Come and grab one.
Nice Parking Spot Rita Bluey T-Shirt
For those who like cute cartoon, nice parking spot probable your favorite.
If you are looking for a trending shirt, no need to worry. Happyinktee have a lot suggestions to you, the most trending collection of shirts, choose one that you like.
A cookbook
During the Festival of Lights, traditional Hanukkah gifts such as gelt, or "coins," are frequently given. Consider useful goods for the home if you're seeking for something conventional but not quite so personal. One of the useful presents for those who enjoy cooking is a cookbook.
Cookies
Food is always a part of celebrations, and Hanukkah celebration is no exception. For the preschoolers, you can prepare chocolates in the form of dreidels and chocolate coins. Most preschoolers crave chocolate therefore chocolate chip cookies are the best things ever.
Building block
One of the intellectual toys that children love very much. They are bring excitement and improve thinking ability for preschoolers.
Conclusion
Hanukkah Menorah is considered an important holiday of the Jewish people. This traditional festival lasts eight days, so there will be plenty of activities to do. The above are some suggested some Hanukkah celebration ideas for preschoolers to do with their families.
Happy Hanukkah Days!